Visit of the Expert Group to the Embassy @ 20 February 2015 07:23 AM
---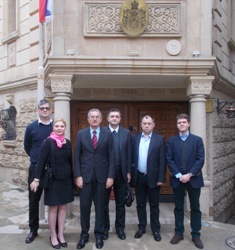 Preserving the security of citizens, is one of the absolutely most important tasks of a democratic State. It operates as the most direct and most important course and it is responsible for the essential and indispensable services.
After a warm welcome in the Republic of Azerbaijan, our specialists visited our embassy too.
In a conversation with the Ambassador guests gave information about the purpose of their visit to Azerbaijan and the work done in the framework of a great sporting event "The First European Sport Games Baku 2015".
---