On 4th December 2013 the Ambassador of the Republic of Serbia Mr. Zoran Vajovic was guest in the XEZER TV "Nush olsun" live show. @ 6 December 2013 12:27 PM
---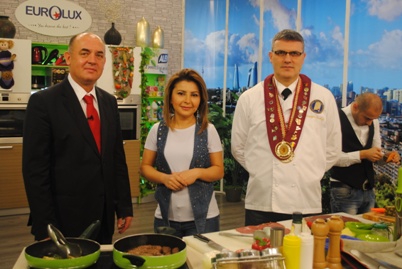 In the live program the Ambassador of Serbia Mr. Zoran Vajovic talked about the Serbian cuisine, traditions, customs and culture. Mr. Vajovic said: "Serbian food is characterized not only by ingredients from Serbia, but also by ingredients from the former Yugoslavia. During the centuries under Ottoman rule, the Balkans were influenced by the rich oriental cuisine and some of the most traditional Serbian dishes have common roots with Turkish and Middle East cuisine".
The President of the Culinary Federation of Serbia Mr. Dragan Lukic cooked Serbian national dishes ćevapcici (grilled minced meat), Mućkalica (mixed meat and vegetables) and puneni biftek (beef filed with cheese and vegetables).
This year at the one of the leading European and world Culinary Competitioms in Istanbul, (Turkey) Mr. Lukic won silver medal.
During the show some videos about Serbian tourism and cuisine were shown.
Xezer TV is one of the most popular channels in Azerbaijan.
---