Representatives from Serbia at the III International Scientific Conference "The culture of sustainable development as a prerequisite for social harmony: theoretical and practical aspects", in Baku, on 28-29th November 2013. @ 29 November 2013 08:25 AM
---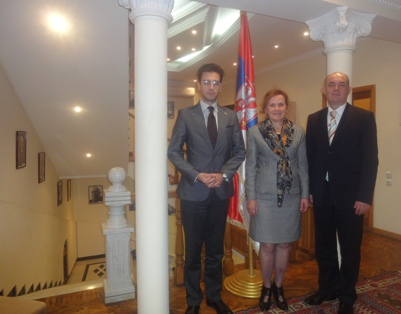 The Conference was organized by the Scientific and Methodical Center for Cultural Studies of the Ministry of Cultural and Tourism of the Republic of Azerbaijan, in cooperation with the National Comission of Azerbaijan for UNESCO, and the Academy of National Economy and Public Administration under the President of Russian Federation.
Republic of Serbia was represented by the Director of the Center for Cultural Development Studies, Ms. Marina Lukic-Cvetic and representative of the Department for International Projects and International Cooperation of the National Library of Serbia, Mr. Dusan Zlokolica. Ms. Lukic-Cvetic presented a report about cultural policy and sustainable development in Serbia.
The delegation visited the Embassy of Serbia and had a meeting with the Ambassador Mr. Zoran Vajovic.
---