Third International Book Fair in Baku @ 27 September 2013 09:13 AM
---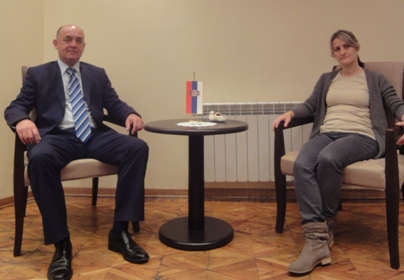 The international book fair devoted to the 90th birthday of Heydar Aliyev has been held in Baku on 24-25th September 2013
The event was organized by the Ministry of Culture and Tourism of the Republic of Azerbaijan.
The Fair attended by 120 local, 35 foreign representatives of printing and polygraph businesses.
The Republic of Serbia has been presented at the Exhibition by Coordinator for international projects and international Cooperation of National Library of Serbia Ms. Tamara Butigan-Vucaj.
Mrs. T.Butigan-Vucaj visited Embassy of Serbia in Baku and met with H.E. Mr. Zoran Vajovic. The cooperation between the National libraries was discussed during the meeting as an one of the important element of overall bilateral cooperation between the two countries.
Ambassador Zoran Vajovic presented to Ms. Tamara Butigan-Vucaj the miniature book "Ramadan Nights" of prominent Serbian writer, playwright and diplomat Branislav NUŠIĆ, which was published by the Embassy of the Republic of Serbia in Baku.
---