UNESCO's role extremely important for preservation of Serbian heritage in Kosovo and Metohija

Prime Minister Ana Brnabic stated today that severe examples of endangering the Serbian cultural, historical and spiritual heritage in Kosovo and Metohija are proof of the important role of UNESCO in protecting and preserving heritage.
At the 41st session of the General Conference of UNESCO in Paris, Brnabic emphasized that four jewels of the Serbian medieval cultural heritage in Kosovo – Visoki Decani, Pec Patriarchate, Gracanica and Bogorodica Ljeviska, have been preserved thanks to the fact that they are inscribed on the endangered world heritage list. Hundreds of other sites and monuments are endangered.
The Serbian heritage in Kosovo and Metohija is of immeasurable importance, not only for the national identity of Serbia, but also as a part of the esteemed European and world heritage, she underlined.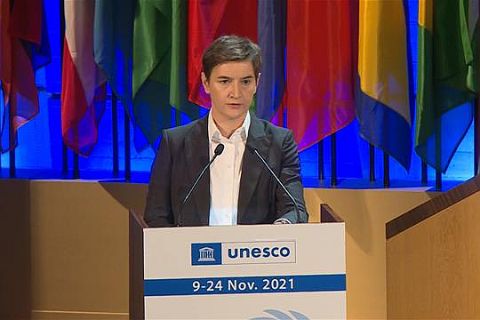 Source/Photo: www.srbija.gov.rs